How to play PUBG in VR
Want to play Playerunknown's Battlegrounds in VR, but don't know how or can't find the best settings?
We've got your back - after playing hundreds of hours in VR we've found the best settings for playing PUBG in VR.
Minimum specifications for PUBG in VR
Heads up: Running games within Bigscreen takes twice the graphics muscle, since you're rendering both a VR environment and PUBG. Graphics cards from pre-2016 may need different settings than those listed here.
To run PUBG comfortably inside Bigscreen we recommend the following hardware:
Graphics card: Nvidia GTX 1060/AMD RX 570
Memory: 8 GB of RAM or more
CPU: Intel Core i5/i7 processor (Specifically a Broadwell processor or newer).
Storage: SSD, or at least a 7200rpm hard drive
You can use older hardware, but we can't guarantee the experience will be reliable in VR. There will be a lot of tweaking the settings to make sure the game runs comfortably, and you may experience poor performance over time.
We also highly recommend using Windows 10 with Bigscreen. Windows 7, 8 and 8.1 work great too, but Windows 10 enhances the underlying APIs for games and contains performance improvements which can help improve your frame rate dramatically.
If you're on a Mac we don't have good news: Apple uses dated graphics cards that aren't suited for experiencing VR right now (unless you happen to own the Mac Pro). Watch this space!
Recommended PUBG settings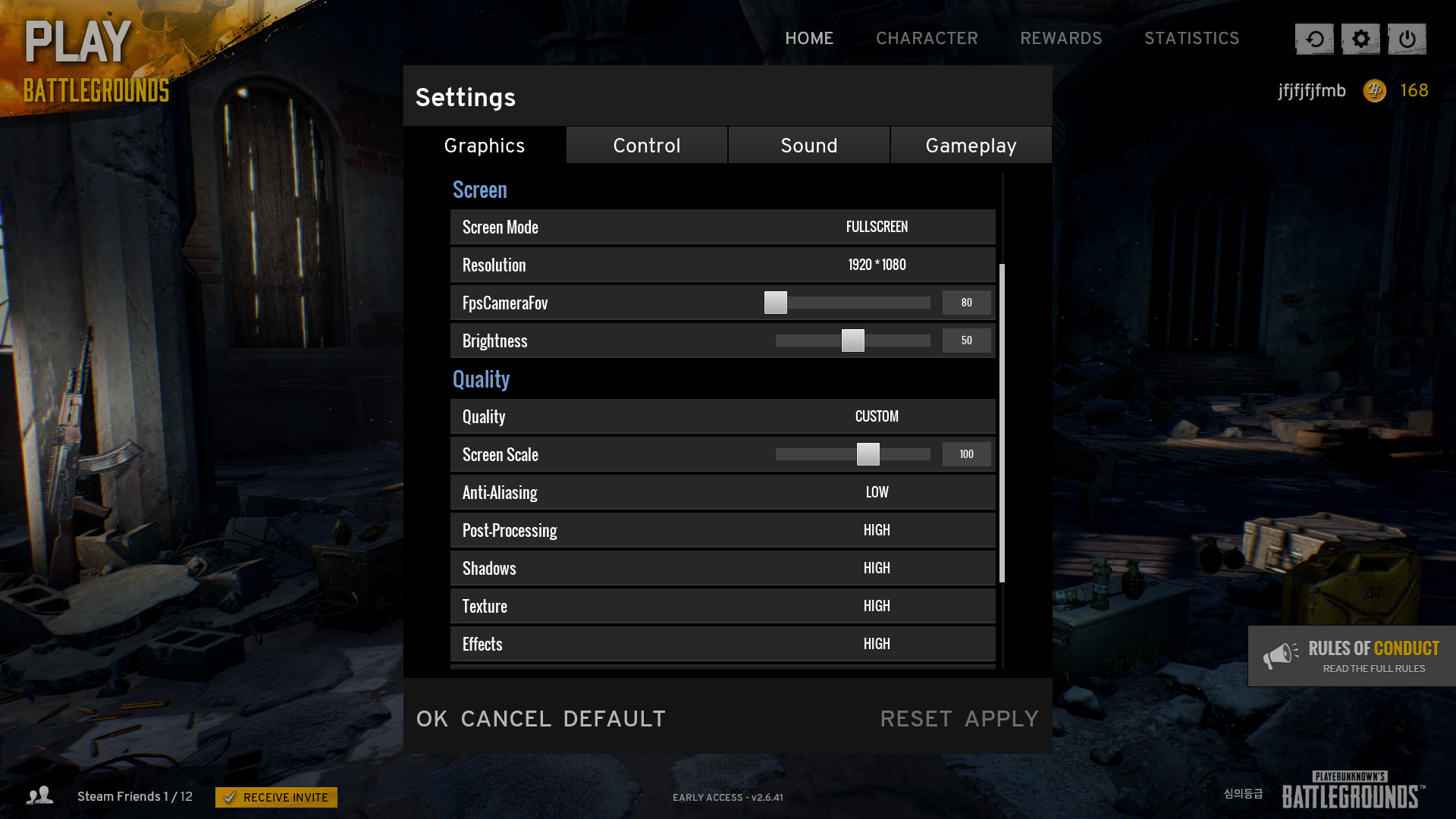 Start up PUBG and click the settings icon on the top right. We're assuming you have a GTX 1060/1070 or higher and here's our recommended settings to start with for PUBG to get the best experience:
Screen Mode: Full screen
Resolution: 1920 x 1080
FpsCameraFov: 80
Quality: Custom
Screen scale: 100
Antialiasing: Low
Render scale: 100%
Post-Processing: High
Shadows: High
Texture: High
Effects: High
Foliage: High
Motion Blur: Disabled
V-SYNC: Enabled
Once these are set, jump into a game within Bigscreen and see how it feels. If you notice poor performance, check you're in one of Bigscreen's game-optimized environments, such as Andromeda or Void.
Otherwise, troubleshoot by lowering these settings in PUBG next:
Anti-aliasing: Disabled
Post-processing: Low
Texture: Medium
Effects: Medium