How to play Overwatch in VR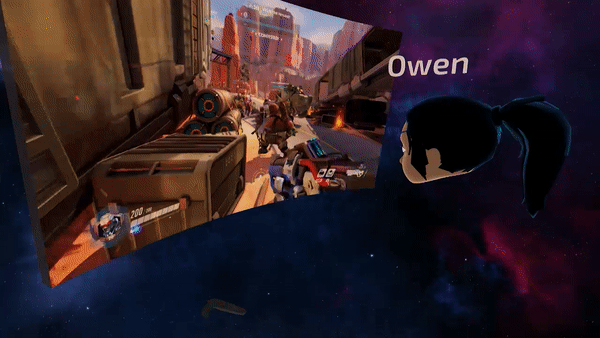 Ready to experience Overwatch like you've never seen before? Imagine playing on a 100-inch TV in a private home theater, or with three of your friends from across the world.
We've played hundreds of hours of Overwatch in VR to find the optimal settings for Bigscreen, so you can focus on getting the play of the game.
Minimum specifications for Overwatch in VR
Heads up: Running games within Bigscreen takes twice the graphics muscle, since you're rendering both a VR environment and Overwatch. Graphics cards from pre-2016 may need different settings than those listed here.
To run Overwatch comfortably inside Bigscreen we recommend the following hardware:
Graphics card: Nvidia GTX 1060/AMD RX 570 or up
Memory: 8 GB of RAM or more
CPU: Intel Core i5/i7 processor (Specifically a Broadwell processor or newer).
Storage: SSD, or at least a 7200rpm hard drive
You can use older hardware, but we can't guarantee the experience will be reliable in VR. There will be a lot of tweaking the settings to make sure the game runs comfortably, and you may experience poor performance over time.
We also highly recommend using Windows 10 with Bigscreen. Windows 7, 8 and 8.1 work great too, but Windows 10 enhances the underlying APIs for games and contains performance improvements which can help improve your frame rate dramatically.
If you're on a Mac we don't have good news: Apple uses dated graphics cards that aren't suited for experiencing VR right now (unless you happen to own the Mac Pro). Watch this space!
Basic settings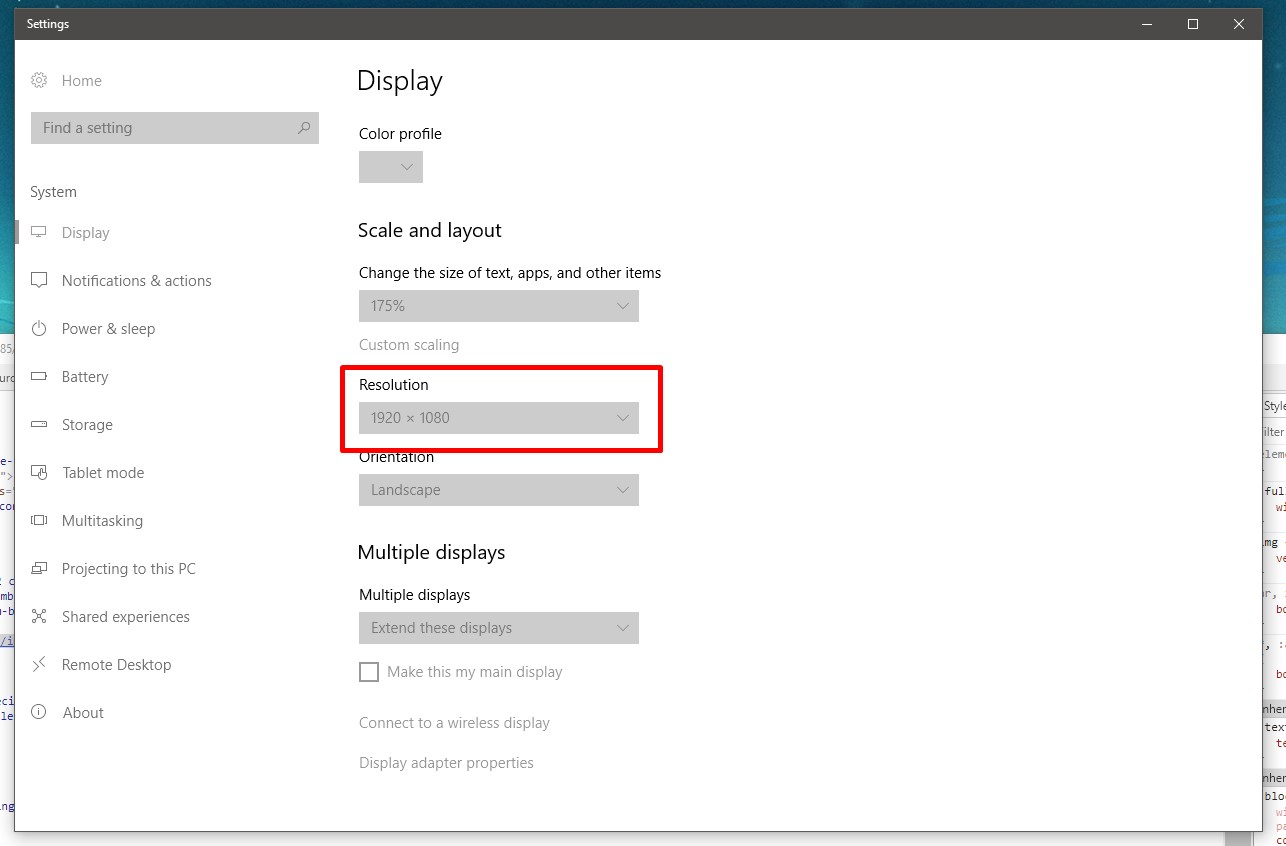 We recommend starting with our settings but making sure to tinker with your own too — you might find it works best with a different setup on your machine and there are many factors that can affect the performance of a game.
Many games expand their system requirements to whatever hardware you're making available to them. In other words, if you have a top-end gaming rig, the latest games will still use 100 percent of your graphics card and CPU because they're built to leverage whatever you make available.
On the Windows desktop before you launch Bigscreen make sure your desktop resolution isn't any higher than 1920 x 1080 for optimal Overwatch performance. You can do this by right clicking anywhere on the desktop, then selecting Display Settings and adjusting the resolution slider.
Once that's done, launch Overwatch from your desktop and make sure the resolution in Overwatch's settings matches your desktop resolution. If you launch Bigscreen in 1920 x 1080 but Overwatch is set to higher (or lower) you'll likely run into issues and may need to relaunch Bigscreen or your game multiple times to get it to display properly.
Jump into Bigscreen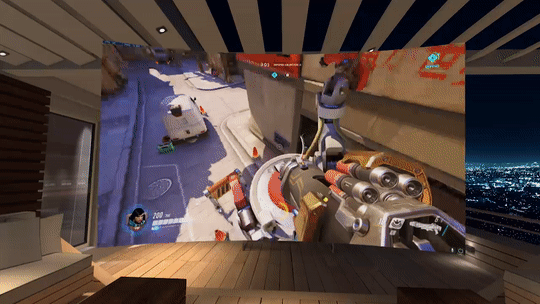 Open up Bigscreen from your Steam library.
If you're focused on absolute best performance or have a lower-end graphics card we recommend one of the 360-degree Panorama environments — however higher end computers can handle environments like the giant cinema, which is a ton of fun.
🚨 Safety check: Make sure you're facing your desk so you can find your keyboard and mouse once you're inside VR, then double check no obstructions are nearby — like water — so it doesn't get accidentally spilled while you're playing.
Once you're ready you can fire up your game by launching it using the controller to point at your virtual screen or just using your mouse and keyboard like normal.
Be sure not to use Steam Home to launch your game — it'll kill Bigscreen and launch outside of VR on your desktop instead. We recommend following the steps found here to change that behavior permanently and make launching games easier.
Overwatch settings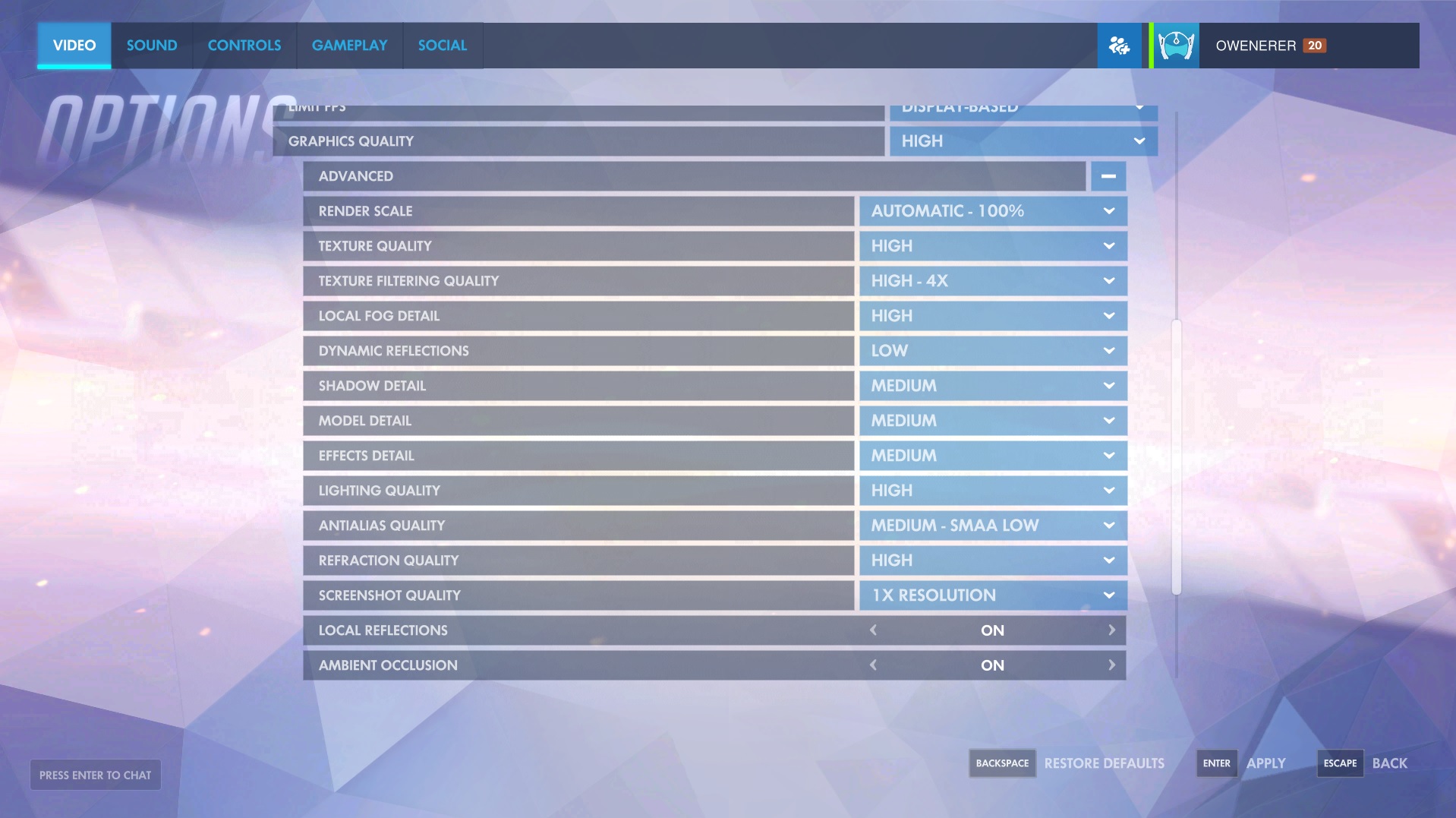 Whip open the Overwatch settings from the main menu, head to the Video tab and look for Advanced Graphics Settings. We're assuming you have a GTX 1060/1070 or higher, but here's our recommended settings inside Overwatch to get the best experience:
Display performance stats: On
Limit FPS: Custom
Triple Buffering: On
VSYNC: Enabled
Frame rate cap: 60
Resolution: 1920 x 1080
Render scale: 100%
Texture filtering quality: Ultra, 8X
Local fog detail: High
Dynamic reflections: High
Shadow detail: Ultra
Model detail: Ultra
Effects detail: High
Lighting quality: High
FPS Counter: Enabled
Antialias quality: Medium, SMAA Low
Once you've set these up jump into Overwatch's training mode (We use Play VS AI to quickly check if it works well) and see how it feels. If the FPS counter at the top left of your screen is pinned around 60 FPS and the VR experience is working well, you're ready to play! Feel free to head back into the settings and disable the FPS counter.
If you see poor performance here's the settings to ratchet down first in order of importance. We recommend changing one of these at a time until you can achieve at least 60 FPS.
Antialias quality: Drop this to Low FXAA or Off for a dramatic improvement in frame rate
Texture filtering quality: Medium, 2X
Shadow detail: Medium or High
Model detail: Medium or Low
Effects detail: Medium or Low
Troubleshooting lag, frame drops and other issues
If you're seeing frames dropping or tearing inside either Overwatch or Bigscreen it's likely because your game is using 100% of your resources leaving very little available for Bigscreen to render the VR environment
There are a bunch of ways to troubleshoot these problems, but here's some of our most common fixes for a less than ideal experience:
Ensure that you're playing in a high-performance environment such as Void rather than the Living Room or Cinema as they require more powerful hardware
Double check that VSync is enabled and that you've capped your frame rate at 60 FPS within Overwatch
Try lowering all graphics settings to Low in Overwatch and see if you can achieve 60 FPS
Lower texture filtering quality dramatically — pushing it to 2X or lower can help dramatically improve a stuttering Overwatch experience
Disable anti-aliasing and supersampling in Overwatch's settings -Disable anti-aliasing and supersampling in Bigscreen's settings
Double check your video card's drivers are up to date and that any overlay tools like NVIDIA GameReady are disabled
On a laptop be sure High Performance mode is selected under battery settings, not Power Saver or any other options, which will inhibit performance even while plugged in.